News and Events
March 2012, New York Times – Fighting to Control the Meaning of 'Obamacare'
February 2012, New York Times – A Compilation of ESPN "SportsCenter" Clichès – One N.F.L. Season's Worth
December 2010, New York Times – She Who Must Not Be Named
June 2008, Republican National Convention Names ShadowTV As Official Broadcast Monitoring Provider
May 2008, DNCC Names Official Video Monitoring Service Provider For 2008 Democratic National Convention
November 2003, ShadowTV® Signs Online Content License Agreement with CNBC Dow Jones Business Video to Search and View Archived CNBC Footage.
November 2003, Broadcasting & Cable – ShadowTV To Stream NBC News
November 2003, CBS MarketWatch – CNBC and NBC-TV to go on the Net
November 2003, The New York Times – Monitoring Broadcast News From Your Desk or Laptop
October 2003, The Information Advisor – Me and My ShadowTV, Technology Lets You Locate, View TV News Clips
July 2003, NASDAQ International Magazine – Market Intelligence, Companies are using NASDAQ's Market Intelligence Desk for up-to-the-minute information and insight as they respond to the challenges of the marketplace.
October 2002, Newsweek – White House: How does the Bush team use tech gadgetry? It isn't just about BlackBerries.
November 2001, The Forrester Report – Cultivate Consumers With ITV Ads
––––––––––––––––––––––––––––––––––––
New York Times – Fighting to Control the Meaning of 'Obamacare' -- By AMANDA COX, ALICIA DESANTIS, ALICIA PARLAPIANO and JEREMY WHITE

–––––––––––––––––– top ––––––––––––––––––
New York Times – A Compilation of ESPN "SportsCenter" Clichès – One N.F.L. Season's Worth -- By RITCHIE S. KING and KEVIN QUEALY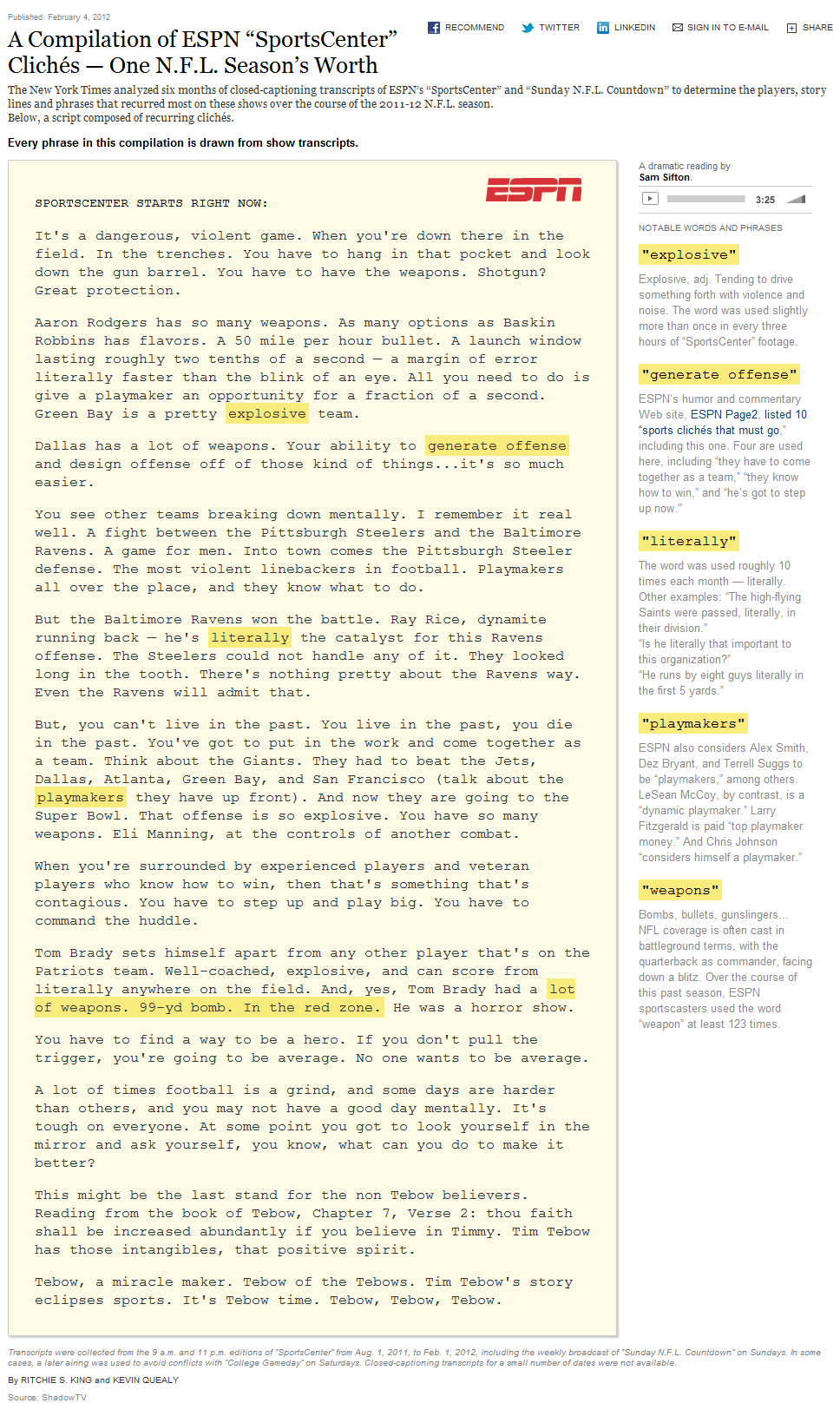 –––––––––––––––––– top ––––––––––––––––––
New York Times – She Who Must Not Be Named -- By Charles M. Blow
This is it. This is the last time I'm going to write the name Sarah Palin until she does something truly newsworthy, like declare herself a candidate for the presidency. Until then, I will no longer take part in the left's obsessive-compulsive fascination with her, which is both unhealthy and counterproductive.
She's the Zsa Zsa Gabor of American politics. She once did something noteworthy, but she's now just famous for being famous.
She was a vice presidential nominee. But she lost. She was the governor of Alaska. But she quit. Now she's just a political personality – part cheerleader, part bomb-thrower – being kept afloat in part by the hackles of her enemies and the people who admire her resilience in the face of them. The left's outsize and unrelenting assault on her has made her a folk hero. The logic goes that if she's making people on the left this upset, she must be doing something right.
Yet the left continues to elevate her every utterance so that they can mock and deride her. The problem is that this strategy continues to backfire. The more the left tries to paint her as one of the "Mean Girls," the more the right sees her as "Erin Brockovich." The never-ending attempts to tear her down only build her up. She's like the ominous blob in the horror films: the more you shoot at it, the bigger and stronger it becomes.
Yes, she's about as sharp as a wet balloon, but we already know that. How much more time and energy must be devoted to dissecting that? How is this constructive, or even instructive at this point? What purpose does it serve other than inflaming passions to drive viewership and Web clicks?
As Politico's editor in chief, John F. Harris, and its executive editor, Jim VandeHei, very candidly expressed in August: "More traffic comes from an item on Sarah Palin's 'refudiation' faux pas than from our hundreds of stories on the complexities of health care reform or Wall Street regulation."
So left-leaning blogs like The Huffington Post plaster pictures of her and her family all over their sites with entries about her latest gaffe or sideswipe. But she's barely mentioned on popular conservative blogs.
The same leftward skew is also true on television. An analysis of CNN, MSNBC and Fox News from Nov. 3 to Dec. 2, using data from ShadowTV, a monitoring service, found that CNN mentioned the name "Sarah Palin" nearly 800 times. (O.K., I had to write her name there. Sorry.) Left-leaning MSNBC mentioned it nearly 1,000 times. But Fox News, which employs her, mentioned it fewer than 600 times. (Secondary mentions like "Sarah" or "Palin" are not included in the count. Neither is "Mama Grizzly.")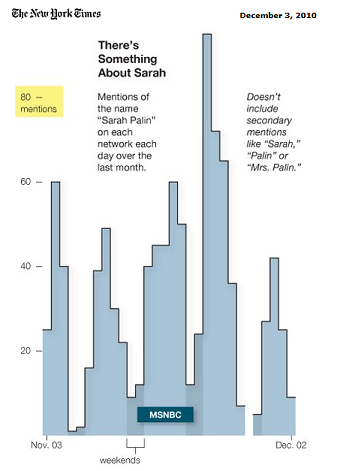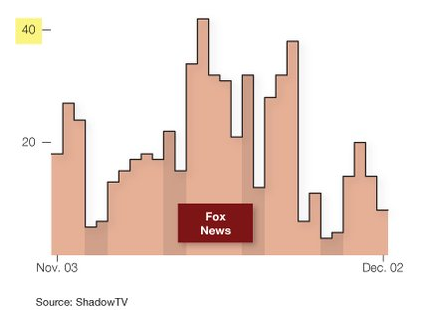 People on the left seem to need her, to bash her, because she is, in three words, the way the left likes to see the right: hollow, dim and mean. But since she's feeding on the negativity, I suggest three other words: get over it.
–––––––––––––––––– top ––––––––––––––––––
Republican National Convention Names ShadowTV As Official Broadcast Monitoring Provider
(SAINT PAUL, Minn.) – To help monitor the massive amounts of media coverage expected during the 2008 Republican National Convention, President & CEO Maria Cino today announced ShadowTV, Inc., as the convention's Official Broadcast Monitoring Provider.
"The excitement and energy of the 2008 Republican National Convention will be documented by 15,000 journalists from around the world - making it second only to the Olympics in terms of press coverage," Cino said. "It is important that we have the technology to document the broadcast coverage of the convention, and ShadowTV will help us track what the broadcast media is saying about it."
As the Official Broadcast Monitoring Provider, ShadowTV will provide the convention with digital, continuous access to live and archived broadcast coverage of the 2008 Republican National Convention. ShadowTV's patent-pending technology will provide the convention with real-time notification when convention-related news is reported by any of the more than 250 television stations ShadowTV monitors across the nation.
"The real-time capability of ShadowTV is second-to-none," Cino added. "And the digital technology will go a long way toward our promise of a greener convention as we avoid the necessity of using non-recyclable video tapes."
"We are proud the Republican National Convention selected us as the official video monitoring service for this high profile event," said Joachim Kim, ShadowTV's founder and President. "Our real-time alerts and ability to search live broadcasts and years of archives from around the country will allow the 2008 Republican National Convention staff to immediately identify and pass along important news coverage to all appropriate contacts."
–––––––––––––––––– top ––––––––––––––––––
DNCC Names Official Video Monitoring Service Provider For 2008 Democratic National Convention
DENVER – The Democratic National Convention Committee (DNCC) today announced ShadowTV, Inc. has been named the Official Video Monitoring Service Provider for the 2008 Democratic National Convention, to be held August 25-28, in Denver, Colo.
"With an estimated 15,000 members of the media attending the 2008 Democratic National Convention, it is incredibly important that we have the ability to track the enormous amount of broadcast coverage resulting from the event," said Jenni Engebretsen, Deputy CEO for Public Affairs of the DNCC. "Shadow TV's video monitoring technology will play an integral role in allowing us to know what the media are saying and when they say it, both in the lead-up to and during Convention week."
As Official Video Monitoring Service Provider, ShadowTV will provide the DNCC with all-digital, continuous access to live and archived television content via their patent-pending, web-based service. ShadowTV's system allows users to search the closed captioning text in news clips and receive real-time alerts when keywords are mentioned in television programming. Using this technology, the DNCC will be able to instantly retrieve footage from more than 250 television stations across the country.
ShadowTV is pleased to provide our internet-based broadcast monitoring services to the DNCC. With the ability to search live broadcasts and years of archives from around the country, ShadowTV will give the DNCC instant access to the research and information they need to help tell the story of this historic Convention to people around the world," said ShadowTV President Joachim Kim. "We are proud the DNCC selected us as the official video monitoring service for this high profile event, a recognition of our leadership and long history of providing high quality, high value services to both business leaders and government agencies."
The company's online process for monitoring and archiving clips will also contribute to making the 2008 Democratic National Convention the most sustainably-produced Democratic Convention in history by substantially reducing the need to record broadcasts on non-recyclable videotapes.
The 2008 Democratic National Convention is expected to pump an estimated $160 million into the Denver area's economy and draw up to 50,000 visitors to the region.
–––––––––––––––––– top ––––––––––––––––––
ShadowTV® Signs Online Content License Agreement with CNBC Dow Jones Business Video to Search and View Archived CNBC Footage.
NEW YORK – November 18, 2003 – ShadowTV and CNBC Dow Jones Business Video announced that they have signed a content license agreement. ShadowTV clients are now able to search (by keyword, time and date) and view archived CNBC financial news clips. ShadowTV clients receive video alerts when keywords of their choice (i.e.: company name, brand, CEO, competitor, etc...) appear on CNBC.
ShadowTV monitors national and local television programming 24/7 for corporate communications, public relations, advertising and crisis management professionals. Clients include financial institutions, government agencies in the US and abroad, major news organizations, Fortune 100 clients and law firms.
"No other media service allows you to search for the archived video financial news you need, when you need it," said Joachim Kim, founder and president of ShadowTV. "This licensing agreement expands our penetration into the financial market – not only as an information resource, but also as a dynamic analytical tool."
"We value the personalization ShadowTV offers our CNBC viewers," said Bob Meyers, general manager of CNBC Enterprises. "It is important for the top financial news network to continue to lead and innovate in the digital environment."
ShadowTV provides the most complete video monitoring technology available today and is the leading digital video monitoring service in the world.
–––––––––––––––––– top ––––––––––––––––––
Broadcasting & Cable
ShadowTV To Stream NBC News
November 14, 2003 – As of today, NBC News fans don't have to get up from their computers, or turn to their local affiliate, to watch Tom Brokaw or Tim Russert.
ShadowTV.com has struck a deal with NBC to stream in "near real time" – a 7-minute delay – the network feed of NBC News programming: Nightly News, Meet the Press and Today, though not Dateline. It already had a deal to stream CNBC. ShadowTV will maintain a two-week archive of the shows and allow subscribers to do keyword searches (via closed captioning), then retrieve and view the relevant video. Users can also stream the entire shows if they want to time shift.
Chief Marketing Officer Bob Sacco said the company is talking with other broadcast and cable networks about similar deals for their news product. Entertainment is not in the cards, he says, but ShadowTV would be open to similar deals for local station newscasts to give them yet another shot at the vaunted second revenue stream. "News content lends itself much more readily to the searchable component versus entertainment," he said.
In essence, the company has done one of those deals already. New York-based ShadowTV will use a WNBC-TV feed of the shows, local ads and all.
No money is changing hands up front, but Sacco says the company will pay NBC something for each sign-up. He said he has had "hundreds" so far today, Nov. 13, the service's first day of operation.
ShadowTV is charging subscribers $19.95 a month for CNBC and $12.95 a month for the NBC shows. The price difference simply reflects the different volume of programming, said Sacco. The package deal is $29.95.
–––––––––––––––––– top ––––––––––––––––––
CBS MarketWatch
CNBC and NBC-TV to go on the Net
Available on a computer near you tomorrow: CNBC and NBC-TV.
By Frank Barnako
November 13, 2003 – ShadowTV.com said Thursday it would launch a Webcast service giving access to live programming, including CNBC and three NBC shows, Today, the NBC Nightly News and Meet the Press. The price for access will range from $12.95 to $29.95 per month, depending on the amount of programming selected. A company spokeswoman said the service would include a two-week archive of General Electric's CNBC and NBC News programs.
The New York company currently supplies CNBC video clips to business clients. Charging subscription fees up to $299 a month, ShadowTV MarketVision delivers e-mail alerts and links to program clips and transcripts. Recently, the company negotiated an agreement to license the programming for consumer distribution.
ShadowTV was founded by Joachim Kim who, the company said, designed the first ATM and was an architect of the IBM-owned Prodigy online service. Its primary business is monitoring TV broadcasts in major U.S. markets, acting as an instant video clipping service for companies, public relations agencies, and even political candidates' tracking their competitors.
–––––––––––––––––– top ––––––––––––––––––
The New York Times
Monitoring Broadcast News From Your Desk or Laptop
By Mark Glassman
November 13, 2003 – Television recording devices like TiVo free viewers from rigid network schedules by letting them decide when to watch their favorite programs. But such devices are still subject to at least one limitation: they must be plugged into a television set.
A new Web site called ShadowTV will let subscribers watch CNBC and NBC News programs whenever and wherever they like, as long as they have access to a computer with an Internet connection. The site (www.shadowtv.com) will maintain a two-week archive of all CNBC programming as well as "Today," "Meet the Press" and "NBC Nightly News."
Subscribers will be able to monitor live television for specific words or phrases and receive e-mail updates whenever they are uttered. If you are so inclined, Tom Brokaw will never say "Bush" or "Iraq" on the air without your hearing about it.
The service, which is to begin operation tomorrow, will be offered on a two-week trial basis at no charge, and will then cost $12.95 to $29.95 a month. It works by scanning the closed-captioning text linked to a particular program for the word or phrase that is being monitored. The video streams from a central server, so subscribers do not download the clip, but rather a link to it. The programs remain on the company's hard drive, away from amateur editors and would-be pranksters.
–––––––––––––––––– top ––––––––––––––––––
The Information Advisor, informationadvisor.com
Me and My ShadowTV, Technology Lets You Locate, View TV News Clips
October 2003 – While we were at Web Search University last month, we were particularly intrigued with a site called ShadowTV (www.shadowtv.com), highlighted in a presentation by Gary Price. This service enables its subscribers to monitor different television news broadcasts in nearly real-time, and to obtain alerts via email with a link to a clip that contains the video broadcast where the tracked words or phrases were spoken. We decided to look into this product further.
ShadowTV is based in New York, NY, and was founded by Joachim Kim. We had a chance to meet Kim at a recent information industry event, and he impressed us with his knowledge of information retrieval. We were told by the firm that he designed the first ATM, was an architect for the Prodigy online service, and was a technical director and designer for Sesame Street's video games.
ShadowTV uses a proprietary software program that searches the closed-captioned transcripts that accompany news broadcasts. Not only are the broadcasts searchable but, said Kim, the commercials are as well.
Currently, ShadowTV monitors broadcasts in New York; Los Angeles; Chicago; Philadelphia; Boston; Washington, DC; Austin; and soon, San Francisco.
ShadowTV's archive currently extends back three years and is continually growing. A six-month archive is available to search directly online to subscribers.
USING SHADOWTV
Subscribers to ShadowTV set up their profile in a manner similar to that of a standard text-based news alert service. By clicking on the "advanced search" screen, users can create a keyword profile. The system allows for a lot of flexibility and advanced search features, such as:
stemming and wildcards
full Boolean, including the use of a NEAR proximity operator
the ability to limit a search to a particular set of broadcasts and/or markets (cities)
a date range field
The search interface also offers additional search features, such as a "Soundex" function to retrieve clips that contain keywords that are spelled differently but sound alike, and a fuzzy operator to retrieve words that are spelled closely to the target words.
There is also an interesting "minus" operator that, when applied to a keyword, will assign a lower relevancy ranking to a news clip that contains a keyword to clips that do not contain that word.
We created a couple of very simple profiles. The first was to be alerted whenever the word "Google" was spoken on the broadcasts that we monitored. Later that day, we received an email alert, which gave us information about a broadcast that included the word, a textual excerpt with our keyword in context, and a link to the video clip. When we clicked on the link, we were taken to the ShadowTV Web site, where we could view the video clip, and see the accompanying text with our keywords on the right-hand side of the page.
Our email notifications not only provided the contextual text and a link to the video clip, but also gave us an option to email that link to another person. Note that ShadowTV permits subscribers to email links internally, but not to people outside the subscribing organization.
We also did a keyword search on "Wesley Clark" and were shown a clip that had aired about 15 minutes previous to our search. That was pretty impressive!
BENEFITS AND EVALUATION
The design, interface, search capability, and performance are all top notch. The main question is, what specific purpose would a video monitor serve that a text-based news monitoring service could not, what does this cost, and is it worth it?
The company identifies several applications for monitoring news broadcasts. Among them are crisis management, brand management, and product placement. Another common use is by public relations to track how one's company, CEO, or specific products are being portrayed by the major broadcast media outlets. (We were told that ShadowTV is also being currently used by political candidates to track their news coverage and that of their competitors.)
Although some of this information can be gleaned from monitoring the print media or by obtaining transcripts of broadcasts, Rachelle Zoffer, VP Business Development at ShadowTV, notes that the value of viewing the video is that watching live images reveals matters like a person's demeanor, emotions, body language, and other visual information.
We spoke with a couple ShadowTV users. S. Friedman is a senior librarian at a major publication in New York and has been using ShadowTV for about eight months. He said that his department uses the product primarily to help its editorial staff get access to information sources not otherwise available, particularly entertainment-related stories. He says that ShadowTV has proven to be particularly useful when a reporter or editor saw a broadcast earlier that day, and needed to view it again that same day. Friedman also liked the fact that ShadowTV provides an instant text transcript, which can often be as useful as a video clip.
We also spoke with J. Oberman, director of research at a leading magazine publisher in New York, who has been using ShadowTV for over a year. Oberman says that the product is useful to assist the staff writers and editors when they are working on a story and need to view a recent news broadcast, particularly when they need to look at individuals' body language and assess their personality. The firm's PR and advertising department uses it to see how often their own stories are picked up.
In the past, Oberman would obtain these clips from a video monitoring service, but he says that the advantage of ShadowTV is the instant access. He also likes the ability to conduct on-the-fly searches.
CAUTIONS AND DOWNSIDE
Friedman cautioned that searching video is trickier than searching text. For this reason, he advised subscribers to arrange for a flat-fee pricing plan, rather than paying by the search, since it may take longer to zero-in on the right items. Similarly, Oberman said that his searches turn out best when he knows the date and time of a particular event, rather than trying to search and find keyword matches.
Keep in mind that, as anyone who has used closed-captions knows, on-the-fly closed-captioned transcripts are not 100% accurate. During a broadcast, transcribers sometimes run words together, misspell words, or create other errors. Kim claims about a 95% accuracy rate, except for broadcasts where there is very fast live action (like a sporting event), or that include a great deal of technical jargon or product names, such as long scientific pharmaceutical products.
PRICING
ShadowTV is a subscription service with a monthly fee, based on the volume of usage and the number of accounts at the company. Zoffer says that a monthly subscription is in the low three to four figures, depending on the number of users. There is also a per-clip pricing model, where users pay for each clip on an as-needed basis.
EVALUATION
We found the product to be very impressive, and it appears to be in a class by itself.
The question becomes whether you actually need to monitor and view news broadcasts, and want to have immediate access to video clips. If the answer to those two questions is yes, and you can justify the costs, then we'd recommend ShadowTV. Because it is an expensive product, though, and video searching is imperfect, we would also recommend that you try to arrange a free demo period, or some agreement where you get some time and assistance to create your keyword searches without being charged.
–––––––––––––––––– top ––––––––––––––––––
NASDAQ International Magazine
Market Intelligence
July 2003 – Companies are using NASDAQ's Market Intelligence Desk for up-to-the-minute information and insight as they respond to the challenges of the marketplace.
How should a stock market be deploying its expertise to support a fair and open investment process? On one side – and much debated recently – is the market's duty to ensure investors have access to buy and sell stock at the best possible price. On the other, is its ability to support listed companies in their efforts to understand what is happening to their stock, so that they can provide timely information to the investment community.
As part of its commitment to providing a fair market for investors, NASDAQ has developed its well-received SuperMontage trading platform. Less well known, perhaps, is the level of support NASDAQ offers to all its listed companies through its Market Intelligence Desk.
"Staff on the desk are drawing on their expertise from a variety of backgrounds in the support they give to companies," explains Bob Power, senior vice president in charge of the MID. "This can range from a former Market Maker who understands the mechanics of trading to those with a background in merchant banking and capital markets."
The depth of market knowledge available within NASDAQ's MID team ensures that the service can be tailored to the needs of an individual company, be it a call and discussion when the stock moves outside certain parameters to a wider analysis of market commentary and trends.
To this end, the MID is structured in dedicated teams to cover NASDAQ's main industry sectors: technology; telecomms, banking, energy, transportation and manufacturing; and consumer and life sciences. To support them, says Power: "We are using the type of communications and information vendor systems which simply aren't available on other markets."
CONTINUOUS COMMUNICATIONS
Each member of the MID has access to this state-of-the-art technology, which kicks in as soon as a company is called or if a call is received via a company's individual toll free number. "For incoming calls, we have a highly sophisticated call routing system which means that no one should be kept waiting," says Parminder Singh, operations director responsible for MID technology. "Calls are routed directly to the person responsible for that company, but if they are out of the office or away from their desk, the call will automatically be routed to another member of the calling company's dedicated team without even ringing."
Whoever answers the call has immediate access to the latest company information via links to a Siebel (NASDAQ: SEBL) customer relationship management database and a tri-panel display system which acts as a feed for such information vendors as Bloomberg, Thomson Financal and Wall Street Source.
"Through the knowledge of our people and our use of technology, we are creating a consistent approach to at least evaluating each stock," says Power. "Individuals can then tailor information to the companies they cover. Analyst ratings, briefings, press releases etc. can all be programmed in to ensure teams are up to speed with the companies they cover."
On average, the MID makes contact with 1,600 companies a month, and the number is rising. "This is where we see a lot of growth," says Singh, "and the technology is designed to cope with it."
Based at NASDAQ's forty-ninth-floor offices next to Wall Street, the MID is approaching its first full year of operation, and is providing the type of timely market information that is most useful to companies, explains Power. "To use a sporting analogy, we're well into our game and are making great strides – a state of affairs that our companies will attest to."
And they do. "The service is giving me a lot of insight into what is happening to our stock," says Michael Gorin, president and chief financial officer of the test and measurement and microelectronics company Aeroflex Incorporated (NASDAQ: ARXX). "If there are stock movements above a certain percentage, we get a call."
WORD FROM THE STREET
"We are working with some of NASDAQ's largest market cap companies and the call volume tends to be high," explains Charlie Brown, a team managing director. "These are companies that are pretty savvy about what is happening in their sector. One of the areas where we can add value is by giving them the Wall Street sentiment. This is in addition to alerting them to unusual trading activity and helping to put this in context through discussions on what is happening across the industry."
According to Jeff Kaplan, managing director in charge of a diversified industry group, the service can be adapted whatever the size of company or nature of its business. "Our companies welcome the extra insight we can give them. We are an objective source of market-wide information that they can depend on. We can provide updates on everything from Market Maker activity to the latest analyst ratings. Among our information sources, we have ShadowTV, which allows us to send out video clips of network interviews with CEOs and news stories about companies – another indication of how a company is getting its message across."
In addition to the established teams, says Power: "We've also just launched an emerging growth sector team to look after smaller stocks. We are continuing to fine tune how we communicate with our issuers and the degree of communication they require."
UNBIASED APPROACH
KLA-Tencor (NASDAQ: KLAC) vice president for investor relations Cary Halsted believes: "It helps to have constant contact with someone external who watches the company closely, especially when this person is unbiased, and is someone you can trust. In many ways, the NASDAQ MID acts as our eyes and ears on the Street."
The role is an important one, agrees Power. "With the tools and insight we have we can determine in macro terms what's happening in the market and relate this to factors affecting companies. We also have a strong background in technical analysis for companies that want to focus on the fundamentals. This can involve looking at what's happening now to predicting future trading patterns."
Following his company's departure from the NYSE three years ago, Aeroflex president Gorin feels vindicated at the level of attention from the MID and from NASDAQ as a whole. "We were encouraged to move to NASDAQ because of the type of service provided and because we weren't getting enough attention on NYSE. We knew the decision would attract notoriety and it did, but that year our stock experienced one of the largest gains on the market."
Whatever the movements of a particular stock, the MID can provide insight and context, says Maria Perez, managing director of the consumer and life sciences team. "I know what a company's hot buttons are – whether it's price volatility at the end of the trading day, short interest or another factor. What we do is monitor these things and, if necessary, proactively call the company."
The process is rigorous and consistently applied, adds Perez. "We are continually monitoring developments that are likely to be important to our companies – anything from a new analyst report to an announcement by the FDA. It's all about exchanging information and monitoring what's important to our companies to give them a better understanding of what's happening in the market."
Working closely with NASDAQ field directors, MID staff regularly visit companies. "It's a consultative approach and it's a question of talking to our listed companies about exactly what it is they need," notes Power. "The priorities can range from a detailed stock analysis required by one of our highest-profile companies to more general market intelligence such as where stocks are less heavily traded."
The resulting service, he says, combines the benefits of an electronic marketplace with human expertise and many years experience in the world of finance.
–––––––––––––––––– top ––––––––––––––––––
Newsweek
He Used to Be G94B
White House: How does the Bush team use tech gadgetry? It isn't just about BlackBerries.
By Martha Brant
Oct. 14, 2002 issue – Ari Fleischer kept getting paged. The White House press secretary was sitting in on a meeting last October between his boss and China's President Jiang Zemin during the APEC economic summit in Shanghai. But every few minutes, Fleischer would steal a look at the specially designed secure pager the White House gave him for the trip; his SkyTel didn't work in China. (Knowing how noisy interruptions annoy George W. Bush, he wisely had the gadget set on "vibrate.") What breaking world news could absorb Fleischer so? His beloved Yankees were in the playoffs, and an aide was sending him text messages with the score.
Baseball may be serious business in the Bush administration, but the main point of technology at the White House is to keep the president and his staff on their own game. During the presidential campaign, Bush earned a reputation for preferring a Sharpie pen to a Stylus. It was Al Gore who was thought of as Mr. Tech. But Bush, too, was an avid e-mailer – until he became president. As G94B@aol.com (now a deactivated screen name), he'd send regular messages from the trail to the 42 family members and friends in his e-mail group. Craving privacy, Bush no longer uses e-mail because every ":)" would become part of the official presidential record. Instead, he has directed his staff – many tapped from the private sector – to apply concepts of corporate efficiency to technological innovation in the government. Ever the CEO, the president hired a chief information officer, and a new-technology-review group evaluates every gadget the White House considers-from standard fare like PCs and cell phones to biometric tools and other security devices designed to protect online activity. "We don't want the White House to be on the bleeding edge of technology," explains a cautious Tim Campen, the first CIO.
Even before the BlackBerry passed its recent technology review, Karl Rove, the president's chief political strategist, was an early adopter at the White House. Wireless e-mail proved invaluable on September 11. With the president tying up Air Force One phone lines on takeoff from Florida, communications director Dan Bartlett borrowed Rove's BlackBerry to let his wife know he was safe. Now almost all the senior staff uses the device. Besides e-mail, the BlackBerries can transmit schedules, press releases and news clippings. As it happens, the review group rejected a handheld computer that had a built-in cell phone. That's because 9-11 showed redundant communications to be a good thing. So Rove also carries a SkyTel pager and StarTAC cell phone.
Air Force One has always been a cool perk, but the refurbished 747 has gotten a tech upgrade. The plane now has DirecTV so Bush can watch live television. Last March he saw news reports of the "Passover massacre" in Israel and reworked a speech to condemn Yasir Arafat. "It's a double-edged sword," says Fleischer, who's had to field questions in midair from reporters who can also tune in. The next upgrade to Air Force One will include broadband so staffers can tap into their White House e-mail and surf the Net from 30,000 feet.
White House technology follows the president everywhere he goes. On Bush's ranch in Crawford, Texas, there's a trailer loaded with state-of-the-art communications, in case the president needs to record a TV message. (The First Lady didn't want all that hardware cluttering up her new home.) Bush can drive his white Ford pick-up to the double-wide for videoconferences with top advisers instead of making them endure the Texas heat.
The West Wing itself is looking increasingly techie. That was the goal when Bush took office. "We wanted to at least bring the White House up to corporate standards," says deputy chief of staff Joe Hagin, who was a vice president at Chiquita Brands. Gateway E6000 computers with flat-screen monitors have replaced decade-old models. About a month ago, Fleischer got TiVo in his office, letting him digitally record right off his TV. His tech-savvy 21-year-old aide Brian Bravo is also using ShadowTV, a video archive that's searchable by key words.
The virtual White House got its own upgrade last year, and traffic has increased tenfold. The Web site, whitehouse.gov, does live Webcasts of the president's speeches and posts digital photos almost as fast as the news wire services. Nine techies work the site, including the only men with ponytails in the Bush White House. Web exclusives, like an upcoming online tour of the Oval Office by none other than Mr. Sharpie himself, help attract viewers. The site gets several million hits on an average weekday – though some users may get lost at the unfortunately named whitehouse.com, which features online porn.
Some technologies may never find a home at 1600 Pennsylvania Avenue. The Bushies, for example, are bringing back White House operators and easing out the voice-mail routing system brought in by Bill Clinton. "Most Americans who call the White House want to hear a human voice," Hagin says. "What was thought antiquated is more efficient for the way we operate." Fair enough. All the operators surely know how to guide callers more efficiently than a computerized prompter that might offer only, say, "Press 1 for 'War in Iraq'."
–––––––––––––––––– top ––––––––––––––––––
The Forrester Report
Cultivate Consumers With ITV Ads
By Daniel P.O 'Brien
With Josh Bernoff, Jennifer Parr, and Greg Flemming
NOVEMBER 2001 – Who knows what lurks in the broadcast TV stream? ShadowTV knows. ShadowTV briefed us on its service, which lets clients locate and view TV content by combing through closed-captioning text. For example, we used it to learn that TiVo was the subject of a recent "Ellen" episode on CBS, and then we were able to stream excerpts from the show. You can even set it up to email an alert when a topic is mentioned on the broadcasts ShadowTV archives. While ShadowTV's current B2B uses – like public relations monitoring – look promising, we're more excited about future consumer applications, such as squirting broadcasts on a viewer's favorite topic nightly to her PVR's hard drive.